Raybestos Racing Brakes Are Not a Thing of the Past
Raybestos® Racing Brakes Are Not a Thing of the Past
Many know the Raybestos® racing brand because of its history. For decades, you could find the Raybestos brand plastered all over the auto racing world.
Whether it be sponsorships or advertisements, you couldn't watch a NASCAR or IndyCar race without Raybestos having a prominent presence.
While this has changed over the past decade, Raybestos hasn't exited the racing market. In fact, the brand is still a major player in terms of what professionals choose to put on their vehicle.
In this post, we walk you through the brand's storied past, tell you what we've been up to the past seven years and fill you in on what our plans are for the Raybestos racing brand moving forward.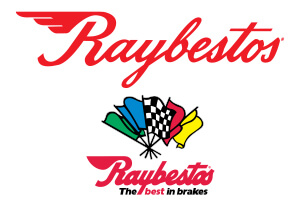 Raybestos Racing History
IndyCar
For over 50 years, Raybestos sponsored the Safety in Speed Award at the Indianapolis 500. That award began a long line of tradition and winning in the racing world.
Year-after-year, drivers would take the checkered flag with the help of Raybestos racing brakes. And Raybestos wasn't afraid to promote that fact. The image to the right shows an advertisement ran in a trade campaign back in the '60s.
Every major player in IndyCar was using Raybestos brakes, including Hall of Famers AJ Foyt, Bobby Unser, Rodger Ward, Jimmy Bryan and more!
In 1966, Raybestos-equipped vehicles took home first place at the Indy500, 12 Hours of Sebring, 24 Hours of Daytona and 24 Hours of Le Mans.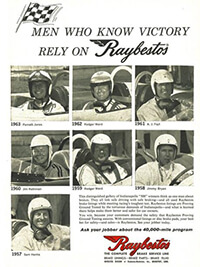 NASCAR
For over 10 years, the Raybestos brand sponsored the Raybestos Rookie of the Year Award in NASCAR. Rookies who went on to become racing icons took home the award, including Tony Stewart, Matt Kenseth, Kyle Busch, Kevin Harvick and Joey Logano
Raybestos was also a staple on the track in the NASCAR Cup Series during the early '90s. The #12 Raybestos Buick and #8 Raybestos Ford were fan favorites, with Hut Sticklin, Jeff Burton and Sterling Martin all driving a Raybestos sponsored vehicle at one point during their careers.
In fact, Kaulig Racing used the Raybestos paint scheme on Justin Haley's 11 car for Throwback Weekend at Darlington last year.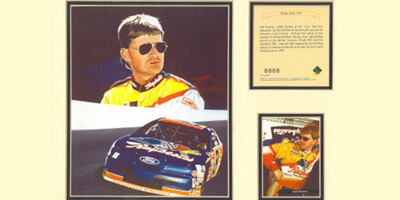 Raybestos Racing Has Always Been There
Raybestos isn't just a brand with a storied past. In fact, it hasn't gone anywhere. Under the ownership of Brake Parts Inc since 2013, Raybestos racing is still a prominent player at the highest levels of motorsports. Raybestos pads continue to win races and championships globally. You name the series, Raybestos is helping drivers win on the hardest braking tracks in the world.
This fact is well known in these close-knit groups. Marketing has nothing to with these professionals choosing Raybestos compounds. They choose Raybestos for one reason...our compounds win races.
Raybestos developed our current compounds based on the input of professional racers. The top racing teams in the US stock car and open-wheel series tested these compounds. In fact, our ST47 compound- our highest torque compound- is a direct result of intensive testing and development both in our lab and on the track.

Taking it to the Streets
While Raybestos is still known by professionals as the Best in Brakes, this isn't as recognized in the club sports markets. Part of that is our fault. In the past, our product offering lacked the broader coverage needed in club racing. But that has changed.
In 2018, we expanded the focus of our racing program to include club motorsports. The best-kept secret in professional motorsports is now available to club sports drivers. We offer our compounds to a much larger range of applications, including many OE-based shapes required for club racing.
With this change, the word is starting to make its way around the club sports world. Drivers who run Raybestos are winning championships at the club level the same as they are at the professional level.
Take Samed Rizvi, who won the National Auto Sport Association National Championship in the TT5 Class in 2019. Samed dominated his class all year, setting lap records all over the Mid-Atlantic Region.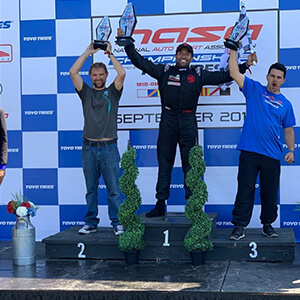 What's Next for Raybestos Racing?
As we continue to move forward, the Raybestos racing brand is focused on expanding our product offering with new OE shapes. We are determined to ensure that every driver at the club level has access to the same level of braking quality that professional racers have won with for over sixty years.
On top of that, Raybestos Racing pads are more accessible than ever. You can buy them directly on this very website.
We recommend that you take the time to learn about our formulations and make sure you select the one best suited for your vehicle and style of racing. If you have any questions, our technical sales team is ready to assist you.
Join the #WinWithRaybestos movement.