RAYBESTOS® STREET PERFORMANCE BRAKE PADS
Raybestos Street Performance brake pads are specifically designed for demanding drivers in the street performance market.
The performance market has long lacked a pad that offers excellent performance under extreme driving conditions while still operating with low noise. As innovators in the automotive aftermarket, Raybestos has put in the time to develop a pad to fill this void from R&D to engineering to manufacturing.
Today, we can proudly state that Raybestos Performance friction provides the aggressive braking required for performance vehicles, while still operating at a quieter level than the competition. See how our Performance friction stacks up against the competition.
Specifications
Coverage
The performance line covers high-performance domestic and import passenger applications, including:
Chevy
Ford
Dodge
GMC
Audi
BMW
Cadillac
Mazda
Porsche
Infiniti
Nissan
Honda
and Many More!
Materials
Raybestos Street Performance brake pads are manufactured using semi-metallic friction formulations.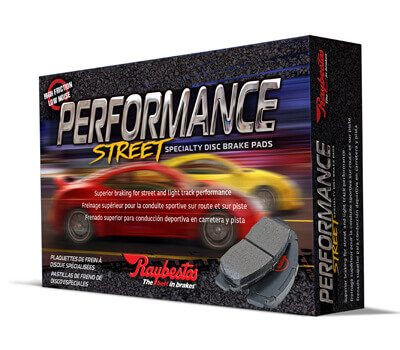 Design
Our Performance line is designed for the demanding conditions required in the street performance market. Our Performance friction performs more effectively than the competition at temperatures created during aggressive street driving all the way up to light track/autocross driving.
Shims
Noise damping, multi-layer premium shims provide quiet operation.
Hardware
Where applicable, rubber-coated abutment clip hardware is included for easy installation.