LUSAC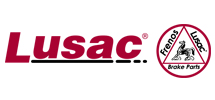 For more than 75 years LUSAC brand has offered to the Mexican hydraulic market quality products for brake system as Master Cylinders, wheel cylinders, hoses, Piston for caliper, seals and powders covers for piston calipers, hoses and spare parts for master cylinders.
Our brand is recognized as one of the highest quality in hydraulic brake parts, being the leader in the Mexican category, as we have areas of research and development that make the products according to Original Equipment specifications.
All the LUSAC products delivered to the market the best performance and safety for users, thanks to this in LUSAC we are your "Brakes Experts".